Home
About Us
Contact Us
People
Rules &

By-Laws
Make a Payment
Newsletters /

CCRs
Water Meters

NEWSLETTER - SUMMER June 25, 2003 (With Updates As of October 15, 2003)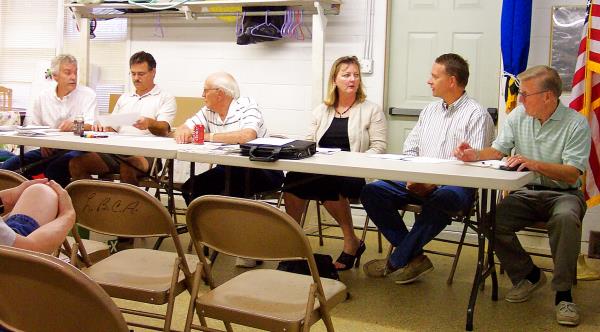 "To provide water service that is
dependable, economical, and
meets or exceeds health standards for all co-operative members"
I. President's Corner
II. Water Conservation
III. Multiple Services
IV. Security Concerns
V. Annual Water Quality Report
VI. Financial


BWC OFFICE
(As of 10-15-03)

LOCATION: 5901 Hillside Rd
MAIL: P.O. Box 164
HOURS: 8:00 am – 4:00 pm
PHONE 410-586-8710
WEB: beacheswater.com
EMAIL: apc@chesapeake.net
EMERGENCY: 443-624-0721
DROP BOX: Outside Gate


Board of Directors
(As of 10-15-03)

Jack Jorgensen - President
Bill Bozman – Vice President
Gary Clarke – Secretary / Treasurer
John Randall - Director
Joan Humphreys – Director
Don Riemers - Director
Dan Crain - Director


Contract Management
(As of 10-15-03)

Dennis DiBello - Business
Manager/ Superintendent
Linda Speciale – Receptionist
Jackie Jacob – Bookkeeper
Kenny Grover – Operations Tech.
Ray Foster - Maintenance Tech.
I. President's Corner

Another active year has passed for our Beaches Water Company. First I want to commend all of our Board of Directors for their participation in serving the Water Company. Our staff is dedicated to our company, and has performed in the highest order.

Our property owner company is rather unique in our area and over the years has performed wonders in transporting a bankrupt private water company into one of the best in Calvert County. It simply could not be done without a dedicated Board of Directors and an active community membership.

The weather has not been cooperating with planned progress in renovating some of the old water lines in the system, but we expect to be back on track by the end of the summer. There may be some water shutoffs scheduled, but with the new controls we have installed, fewer homes will be affected. Notices will be posted and the off times will be minimized.

We are actively planning to take care of any and all system deficiencies by planned replacements in the future.

Please plan to attend the Company annual meeting in September. Details will be mailed later this summer.


Sincerely,
Jack C. Jorgensen
President

..

Announcing the Beaches Water Company's Annual Meeting

Date: September 14, 2003
Time: 3:00 pm
Location: Long Beach Civic Center on Calvert Blvd
---
.

Do we add fluoride to the drinking water?

No we do not. Although in some areas of the country water systems add fluoride to the water, Beaches Water Company is only licensed by the State of Maryland to treat the drinking water for bacterio- logical concerns. Trace amounts of fluoride naturally occur in the aquifers, but those amounts are not significant to aid in children's dental growth and development. Many doctors/ dentists prescribe fluoride supplements or children's vitamins with fluoride.

..

Chlorine smell?

Water is disinfected to ensure it is safe to drink. Chlorine treatment is the most common and effective disinfectant. At times the treated water may have a chlorine smell. This is the free chlorine residual that we must maintain to ensure the water at your tap is safe to drink. Letting the water stand for a few minutes dissipates the smell.

.

All drinking water, including bottled water, may reasonably be expected to contain at least small amounts of some contaminants. The presence of contaminants does not necess- arily indicate that the water poses a health risk. More information about contaminants and potential health effects can be obtained by calling the Environmental Protection Agency's Safe Drinking Water Hotline at 1-800-426-4791.

-
II. Water Conservation

Remember even with the massive amounts of rain that we have had this Spring, our water is drawn from deep aquifers. It takes years for surface water to replenish these deep aquifers. Conservation is just as important now as it was last year during the drought periods. Therefore, please use water wisely. Community water allocation is calculated on a per household basis. If we fail to use our water wisely, the Maryland Department of the Environment can impose mandatory water usage restrictions.


III. Multiple Services

The Bylaws of the Company charge the Board of Directors with maintaining the financial health of the Company. Being a member-owned not-for-profit business means that each member pays his or her fair share for the availability of a safe and secure water supply now and in the future. The understanding under the Rules is that each connection serves one household, and multiple households on one tap are considered to be the same as additional hookups. Past practice has always been that the term "household" refers to any portion of a dwelling, which could function alone, meaning that it has a separate bathroom and kitchen facilities. This would clearly mean any attached or detached building, which is so equipped, or even a basement or other apartment so equipped within the dwelling. This is simple and clear in the case of the rental of an apartment, garage, or other portion of a dwelling. However, it must also include 'mother-in-law' apartments equipped and used in that way whether they are charged for or not. If your property falls within this description and is actively used in this way, please be aware that you are responsible for paying for the water use of multiple households both because it is necessary under the rules but also because it is only fair to our other members, your neighbors. If this describes your property, please contact the Company and we will adjust your bill accordingly. If you were unaware of this requirement and notify the Company, you will be billed only on a future basis, not for past usage.


IV. Security Concerns

Due to the September 11 attack, there has been increased concern about the security of water systems. Many measures have been made to ensure the safety of our drinking water. These measures include fencing, lighting, wellheads concrete enclosures, and emergency alert procedures. Any unauthorized entry into the fenced area must be fully reported. Please ensure your children do not enter the fenced in areas of the water company. If you see unusual behavior at the pumping stations or hydrants, please give us a call.
---
Our drinking water is safe
and meets all federal and
state requirements for community drinking
water. In 2002, there were
no water quality violations.






Some Terms Defined:

Action Level (AL) - The concentration of a contaminant, which, if exceeded, triggers treatment or other requirements, which a water system must follow.

Non-Detects (ND) - Laboratory analysis indicates that the constituent is not present.

Parts per million (ppm) or Milligrams per liter (mg/l) -One part per million corresponds to one minute in two years or a single penny in $10,000.

Parts per billion (ppb) or Micrograms per liter - One part per billion corresponds to one minute in 2,000 years, or a single penny in $10,000,000.

Treatment Technique (TT) - A treatment technique is a required process intended to reduce the level of a contaminant in drinking water.

Maximum Contaminant Level - The "Maximum Allowed" (MCL) is the highest level of a contaminant that is allowed in drinking water. MCLs are set as close to the MCLGs as feasible using the best available treatment technology.

Maximum Contaminant Level Goal - The "Goal"(MCLG) is the level of a contaminant in the drinking water table (shown below), which there is no known or expected risk to health. MCLGs allow for a margin of safety.

V. Annual Water Quality Report

-

Our water quality results are based on monitoring for the period of January 1st to December 31st, 2002. Terminology used in this report is what is generally accepted as a means of measurement of the degree of contamin- ates in the water. Contaminates include natural occurring items in the water such as minerals and foreign matter which may or may not be acceptable based on the level detected. The amount of containments in our drinking water is well below levels set by the Environmental Protection Agency in all categories. The Beaches Water Company routinely monitors for constituents in your drinking water according to Federal and State laws. All drinking water, including bottled drinking water, may be reasonably expected to contain at least small amounts of some constituents. It's important to remember that the presence of these constituents does not necessarily pose a health risk. If you have any questions about the Annual Water Quality Report or concerning your water service, please contact us at 410-586-8710.

-

Water Characteristics Tested in 2002

Microbial
Results
MCLG

MCL

Level
Detected
Violation
Likely Source
of Contamination
Total
Coliform
Bacteria

0

not > 5% monthly
samples

0

NO

Naturally Occurring
Arsenic (ppb)

n/a

10

7

NO

Natural deposits
Nitrate*

10

10

< 0.2

NO

Fertilizer use, septic
leaching, sewage,
natural deposits
Barium *

0.002

0.002

< 0.1

NO

Natural deposits
Cadmium*

0.005

0.005

< 0.0025

NO

Natural deposits
Chromium*

0.1

0.1

< 0.01

NO

Natural deposits
Fluoride*

4.0

4.0

< 0.32

NO

Natural deposits
Iron*

--

--

< 0.14

NO

Natural deposits
Mercury*

0.002

0.002

< 0.0005

NO

Natural deposits
Nickel*

0.1

0.1

< 0.05

NO

Natural deposits
Selenium*

0.05

0.05

< 0.025

NO

Natural deposits
Sodium*

--

--

< 9.96

NO

Natural deposits
Antimony*

--

--

< 0.0025

NO

Natural deposits
Beryllium*

0.004

0.004

< 0.001

NO

Natural deposits
Thallium*

0.0005

0.002

< 0.001

NO

Natural deposits
Gross Alpha (pCi/l)

0

15

< 1

NO

Natural deposits

* - (mg/l)

Some people may be more vulnerable to contaminants in drinking water than the general population. Immuno-compromised persons such as persons with cancer undergoing chemotherapy, persons who have undergone organ transplants, people with HIV/AIDS or other immune system disorders, some elderly, and infants can be particularly at risk from infections. These people should seek advice about drinking water from their health care providers. EPA/CDC guidelines on appropriate means to lessen the risk of infection by cryptosporidium and other microbiological contaminants are available from the Safe Drinking Water Hotline (800-426-4791).
---
Arsenic Informational
Statement

While your drinking water meets EPA's standard for arsenic, it does contain low levels of arsenic. EPA's standard balances the current understanding of arsenic's possible heath effects against the cost of removing arsenic from drinking water. EPA continues to research the health effect of low levels of arsenic. Arsenic is a mineral known to, at high concentrations, cause cancer in humans, and is linked to other health effects such as skin damage and circulatory problems.




(Current As of October 15, 2003)
Application/Transfer Fee
$40.00
Quarterly Service
$75.00
New Service
$3,000.00
Pool (annual)
$75.00
Shut-off
$75.00 ($40.00
Customer's Request)
Reconnect
$40.00
Extended Shut-off
$300.00
Return Check
$25.00
Late Penalty
One time 10% applied
15 days after quarter

.

Quarterly Billing
January 1
April 1
July 1
October 1
A 10% finance charge is
assessed 15 days after
the quarter for unpaid bills.

VI. Financial

Although Beaches Water Company, Inc. has been able to defray certain costs; increases in other operating costs and capital expenditures have made it necessary for us to increase our fees. The Schedule of Fees below reflects a $5.00 increase in our rates effective July 1, 2003.

The following chart is a breakdown of the budget for the fiscal year 2004,
7/1/03 – 6/30/04.


| | |
| --- | --- |
| BWC FY 2004 BUDGET | INCOME |
| Water service | 229,500.00 |
| Shut off/Reconnect fees | 520.00 |
| Pool water service | 2,400.00 |
| Space Rental | 4,608.00 |
| Advertising-Quarterly | 1,000.00 |
| Application & Transfer Fees | 2,000.00 |
| Hook ups | 9,000.00 |
| Total Income | $ 249,028.00 |
| BWC FY 2004 BUDGET | EXPENSES |
| Auditing | 3,900.00 |
| Bad Debt | 200.00 |
| Bank Service Charges | 200.00 |
| Depreciation Expense | 37,680.00 |
| Professional Memberships | 400.00 |
| Engineering | 500.00 |
| Insurance | 10,000.00 |
| Loan Interest | 500.00 |
| Mortgage Interest - GMAC | 6,670.00 |
| Mortgage Paydown - GMAC | 11,197.00 |
| Mortgage Interest -MDE | 2,053.00 |
| Legal | 350.00 |
| Licenses and Permits | 200.00 |
| Office - Other | 3,960.00 |
| Operating Supplies | 7,500.00 |
| Repairs & Maintenance | 10,000.00 |
| Routine Service | 115,105.00 |
| Solid Waste Fee | 103.00 |
| Performance Bonus | 11,510.00 |
| Utilities | 20,000.00 |
| Water Testing | 2,000.00 |
| New Water Allocation Expense | 5000.00 |
| Total Expense | $ 249,028.00 |

Please submit all questions and comments to
beacheswater5901@gmail.com