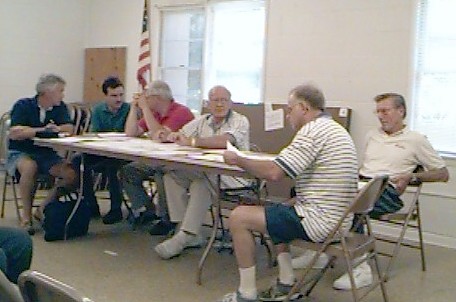 1999 Board of Directors (Not All Shown)

(Left to right) Gary Clarke, Dennis DiBello, Dick Heibel, Jack Jorgensen, Steve Davis, & Bill Bozman.
Volume 2
5901 Hillside Road, P.O. Box 164
St. Leonard, MD 20685

August 26, 1999
(410) 586-8710 Office
From the Board of Directors
The Beaches Water Company (BWC) is faced with new opportunities and responsibilities for growth in your water system. Fortunately, our past and recent improvements have prepared us well. Both the Calvert Beach Estates II and Kings Creek II subdivisions, 50 new homes, will obtain water from our system. This is a logical addition since the subdivision entrances Cherry St., Douglas St., and Long Beach Rd are continuations of our service mains down those existing streets. The increased revenue from these new hookups will aid in stabilizing BWC's financial future. This expansion of the system provides us with the opportunity to upgrade service mains, install system isolation, provide for pressure/flow balancing and request additional water appropriations.
Superintendent Notes
We have had a year of growth and development. We have fully established the office which is staffed daily from 8:00 a.m. to 4:30 p.m. (as of August 1999). Customers stop by to pay bills or request services. We have demonstrated our ability to perform repairs both emergency and planned. We have performed increasingly challenging tasks ranging from repairing lines under pressure to installing hundreds of feet of new service main. We are currently building our inventory of tools, equipment, and parts. Below are notes of our progress:
> Our five pumping stations and eight wells have operated satisfactorly for the last year. We have had a few minor issues but nothing that caused a complete system outage. This past year, we operated at 99.9% availability. Repairs are scheduled to minimized impact on our community members. Generally, we shutdown the minimum area possible in 9:00 a.m. to 1:00 pm. For planned repair, signs are posted a day in advance. With a system as old as ours, some sections received more repairs than others. We appreciate your patience. Our main goal is to get shutoff valves for each home and zone to be able to shut down smaller areas. Many of these are installed under pressure by BWC's maintenance team.
> In July, Beaches Water Company finished its fiscal year 5% under budget. Again much of the savmgs was in the areas of contract repairs as many of these are being performed in-house. The next fiscal year's budget was set with a slight increase. We will continue to build the internal capability of the company to minimize the cost of repairs and maintenance. Whenever possible we will use community labor or services.
> The community has responded very well to the need to conserve water. We initially requested a curtailment of water usage in a letter dated June 5, 1999, to the community. The BWC Board of Directors requested this voluntary curtailment due to the fact that BWC had reached its summertime peak usage in the month of May. It usually is reached in August. At this continued rate, in the coming summer months, the concern was that BWC would grossly exceed its water withdraw permit limits. During an evaluation of water usage at the July Board meeting it was determined that sufficient curtailment had not occurred and the Board voted to put in place a mandatory curtailment. A $50.00 water usage penalty was established for continued violators. A second letter with these details was sent to the community on July 17, 1999. This mandatory curtailment was well advertised on the local radio, newspaper and BWC's web site: www.chesapeake.net/apc/bwc.html. We had only a few reported violators and after posted and verbal warnings, they ceased violating the restriction. At the end of July, the State placed mandatory requirements on water use that superseded BWC's restrictions. We are now reporting usage to the State on a daily basis. The community is to be commended for their conservation actions. Assessing BWC progress of the statewide mandatory restrictions, using the baseline month of June, shows that BWC's mandatory curtailment had a substantial effect before the statewide restrictions were put into place. May to June BWC saw a 4 % increase; June to July an 18 % decrease; and July to August a 12 % decrease. Overall from June, a 27% decrease has occurred. With the current week of rain, daily water usage has dropped even further.
> A point to clearly understand is that the water restriction issue for BWC is a license issue not a capacity issue. We are capable of pumping 576,000 gallons a day (gpd) from the wells and even more to the community since we have 250,000 gallons of storage. We are licensed to pump a daily average of 118,000 gpd with a maximum peak of 197,000 gpd. Research in the past month, working with MDE, has revealed that these numbers were established in 1988 based on a community of 467 homes. With the growth in the community to 681 homes and installation of fire suppression, these permits need to be updated. Any future growth in the community will be considered in the update.
> The Maryland Department of the Environment (MDE) inspected us earlier this year and determined that our system provided a safe and adequate drinking water supply. We have had subsequent visits to discuss other items such as growth and development in the community and well head protection.
In establishing the Safe Drinking Water Act (SDWA) the Environment Protection Agency (EPA) seeks to ensure a safe and wholesome water supply. There are three major requirements in the SDWA:
1. Sampling and Reporting
2. Record Keeping,
3. Public Notification
EPA has increased its attention this year on item 3, Public Notification, and we are now required to submit to the community a comphensive annual report called a Consumer Confidence Report. It will contain very specific language required by the EPA of the concerns and dangers of certain elements found in the water whether or not they exceed acceptable levels. We are now preparing the BWC's report and will issue it at the annual meeting on September. For those not attending, it will be mailed to the addresses on file. Due to its complex nature and required language, we asked that if you have questions after you have read it to please give us a call.
> We have upgraded our computers and software to be Y2K compliaint. Since our pumping station controls are not digital, we do not expect any issues from an operation standpoint, barring loss of power from SMECO. In order to ensure reliable power source for the Y2K event and other natural events such as the ice storm of a few years ago, we are considering an emergency generator. In the ice storm, we did have gravity flow for the few days we were without power. An emergency generator would allow us to refill the storage tank and keep a minimal pressure on the system.
> The Beaches Water System provides water to 681 homes in the areas of Long Beach and Calvert Beach. There is a separate water system in the newer parts of Calvert Beach. That water system is called the Calvert Water System. There is also a County run water system in the town center of St. Leonard. The Beaches Water System is physically connected to part of the Calvert Water System. The other part of the Calvert Water System and the County system is within a few hundred feet of each other. A discussion was held by the Maryland Department of the Environment concerning growth in the area and interconnection of the water systems. All involved felt that sometime in the distant future there might be reasons to connect the systems together.
> On some lots in the community, wells were allowed during a building moratoriuim. This occurred before Beaches Water Company was formed. These wells were considered provisional with a requirement that they were to be abandoned once a sufficient water supply was available. We are in the process of informing these residents that they have the option of attaching to the water system. At this time we will not pursue legal recourse. However, if these wells fail, the County will not issue a new well permit and they will be required to attach to the system.
> Many community members continue to have problems with the older black plastic piping that is connected from the curb valve to the house. This black plastic pipe is a thinner walled pipe usually rated at 100 psi. It seems to lasting approximately 15-20 years left undisturbed. The shifting of the ground in the winter freeze and summer dryout seems to cause the thinned walled pipe which has become brittle to crack causing leaks. Once it has reached this point, replacement will be necessary in the next few years. This piping is the responsibility of the homeowner. We can assist you in getting the pipe replaced.
> When returning your bill, please be sure to include the right side portion of your bill with your payment to ensure payments are correctly posted. This is especially necessary in cases where the name on the check is not the same as the customer.
> Please inform the office of any changes in your name or address. Also, please inform the office before you sell or otherwise transfer your property in order that transition in the account information can be handled in a timely manner.
Dennis DiBello. Superintendent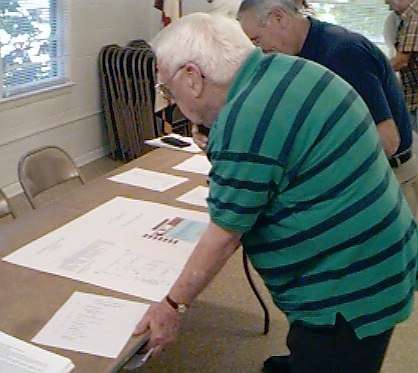 Meeting attendees Loren Clarke and Jack Andrews examine proposed improvements to the BWC Office building.
(Photos were taken at the 9/12/99 Annual Meeting.)

Please submit all questions and comments to
beacheswater5901@gmail.com